Most industrial access issues are the bane of maintenance crews and repair professionals everywhere; simple access to a roof on a suburban home to complex access issues in light or heavy industrial environments.
Whoever invented Aluminum Rolling Ladders has the thanks and gratitude and devotion of workers and work crews from all over the world.
Lighter and more sturdy than their steel counterparts, they are able to withstand greater weight capacity because of their durabilty. These ladders can be found in every factory, work complex and industrial environment and are an easy solution to all and every access issue.
Indeed such is the proliferation and abundance of many differing designs, sizes and applications there isn't an access issue that cannot be solved.
Aluminum ladders appear in many different configurations, depending on your application.  They can be used as a warehouse stock picking ladder and for dock and boat work.  Also, Rolling Ladders formed of aluminum are easy to facilitate and can be used for easy access to truck beds and bodies for repairs, maintenance or spray painting; indeed it would be difficult to advocate or champion the many solutions available and work environments in which they can be successfully and easily deployed.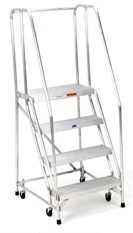 Rolling ladders made of aluminum with easily lockable wheels offer many solutions to rapid deployment in many working space environments, yet can be easily folded and stored away when not required.
Aluminum ladder solutions are lightweight and the user is neither required to have muscles like body builders.
Invariably managers of work teams and individual trades persons, mechanics or anyone requiring easily managed access solutions are looking for a complete access solution for the business at affordable prices.
Also having available a knowledgeable staff that are on hand to discuss your particular application and help you identify the best solution is a bit of a bonus too, and a prompt and friendly response to each and every enquiry has customers coming back time and again for viable solutions to their access and materials handling issues.
Industrial and commercial access solutions, including aluminum ladders, rolling ladders and man lift applications, mobile work platforms and scissor lifts are available from our website at U.S.. Industrial Supply, Inc.   You could also contact us toll free at (888) 722-0311 for more information.