Monster heavy-duty mobile stairs and industrial ladders are lightweight solutions to awkward access solutions in commercial and business premises — an economical, safe alternative to stepping over or reaching up and over in order to gain access.
Consider an overhead storage platform that needs regular access, and yet the only way to access it is from a designated walkway area that's also in constant use, both by pedestrian and vehicular traffic such as forklift and/or pallet trucks.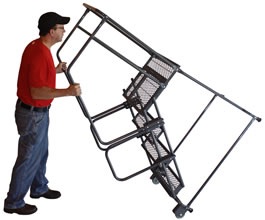 Installing a permanent stairway access solution is neither a practical nor, indeed, a safe option. On the other hand, a set of portable stairs or rolling stairs (what you call them depends on your preferred terminology or colloquialism) offers an affordable, safe, and practical solution.
Easy to maneuver into place, able to be stored out of harm's way when not in use, and having a set of self-locking wheels for assured stability, they represent one access issued solved.
Roll-and-fold ladders can be used equally well in a library, archive facility, warehouse, and/or storage depot or any location where storage space for a ladder is limited, yet rapid deployment is constantly an issue. These are similar to a mechanic's rolling ladder but better suited for other areas of operation.
Likewise, a rolling office ladder, although similar in design and appearance to a truck access stairway, is designed for totally different work environments and their respective pressures.
Over the years, the term "necessity is the mother of invention" has led to innovative, pioneering, and ingenious designs of mobile industrial ladders designed to give maximum efficient access to numerous diverse and unrelated working environments. And yet all of these varied environments have one thing in common: the need for safe, effortless access to elevated work and/or storage locations.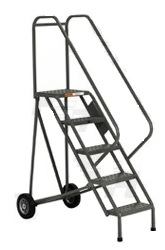 To this end, any mobile ladder solution should be tested and certificated to at least OSHA & ANSI standards (ANSI is, of course, the American National Standards Institute, and OSHA is the Occupational Safety and Health Administration). These two organizations together are responsible for assessing and setting into place safe working practices in workplaces across the United States.
The entire collection of mobile stairs, combined with other access solutions and material handling solutions available from U.S. Industrial Supply, are all guaranteed safe to use, efficient, and cost-effective.
U.S. Industrial Supply offers a rapid and speedy access solution, dispatched and delivered direct to your business or commercial premises, at a price you need to see to believe.  For details, contact us today toll free at (8880 722-0311.