If one owns a business or commercial operation of any kind, and there is a need to install industrial stairs or some kind of gangway or walkway in order to achieve access to a raised platform or accommodation, always ensure the any equipment deployed meets — preferably, exceeds — the prescribed standards of ANSI or OHSA. ANSI is the American National Standards Institute; OSHA is the Occupational Safety and health Administration. It is the responsibility of these two organizations to monitor and police safe working practices in the workplace in the United States.
The OSHA is a division of the United States Department of Labor, and as such, has the task of investigating accidents and issues in the work place — items as varied as the safe use of facilities in a kindergarten, safe use of nail guns in a construction site, and, of course, the safe deployment of industrial stairs,  or other access solutions, either temporary or permanent.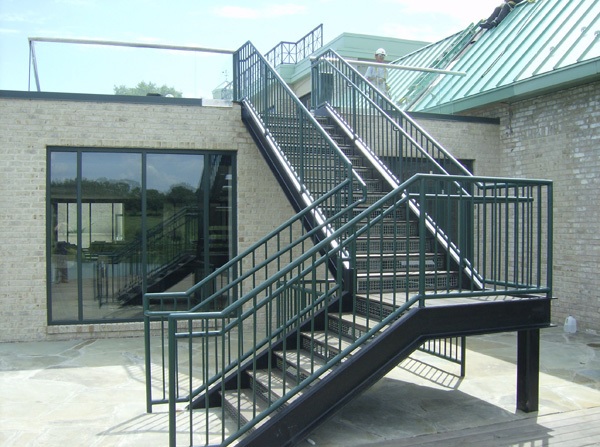 The jurisdiction of OHSA is wide; should there be any incidents of injury or death in the workplace, their operatives are tasked with investigation and drafting any subsequent recommendations or regulations designed to avoid the same thing happening again.
Health and safety issues in the workplace are essential for the well-being of all stakeholders in the business: suppliers, employees, customers — in fact, the cost to industry resulting from accidents, injuries, and lost time runs into millions of dollars every year.
Not only is there a cost to insurance companies, which eventually leads to higher premiums all round; there is the added cost of fines and levies against the offending company.
Delve into the mire deeper and one then has to realize the human cost to the family of the victim(s) of any incident. There are many other hidden costs that are part of the equation, more than there is space to go into detail on here.
Suffice to say that access issues and solutions are some of the more potentially hazardous scenarios in industry, with many variables which can affect safe or unsafe practices, and the biggest issue is using access equipment of any type that doesn't meet or exceed ANSI- or OSHA-prescribed standards. If your business has any access issues, always ensure any solution deployed doesn't contravene any codes and is as safe as is reasonably practical.
If your business has access issues and requires solutions designed and manufactured to exacting standards, contact U.S. Industrial Supply at our toll free number (888) 722-0311 and a representative is standing by to assist you.