Do elements of your business need a temporary access solution — yet the area where access is required is a thoroughfare or an essential element in the logistics setup of the business, and a fixed access point is just not acceptable or viable? Chances are that mobile stairs, sometimes referred to as rolling stairs or portable stairs, could be the solution which has so far been elusive.
Mobile-stair units are merely a variation on a theme; ladders have been around in one form or another for thousands of years. The inventors and/or users have been pretty ingenious in their design, materials they were made from, and, of course, their deployment. The earliest known use of a ladder as an industrial tool is from a cave painting which dates back to the Mesolithic era, in what is now modern-day Spain. The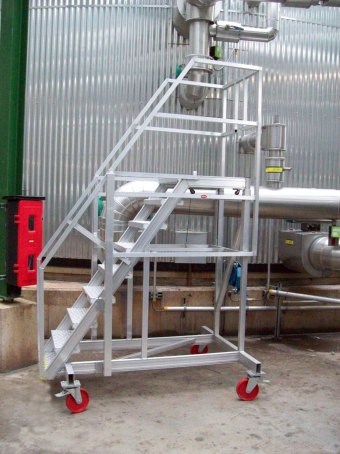 image depicts two naked men using what appears to be a rudimentary ladder made from woven grass, affording access to a wild bees' nest.
Moving ladders or mobile stairs take many forms but there are two design components standard to all designs and variations. Each item invariably has a base made from four "legs," and on the end of two of these legs is a lockable wheel or castor, enabling the user to push the aforesaid item into position; on the end of each of the other two legs is a sturdy, hard-wearing rubber stopper. When the ladder is moved into position and all four "feet" are firmly on the ground or surface, the rubber stoppers, combined with the lockable wheels, prevent any lateral motion that could cause the mobile stair unit to become unsafe or unwieldy.
The wheels lock by way of the user's weight forcing the wheels into a locked position; when the weight is released, and the user needs to move the rolling ladder to another location, one merely raises the solid "foot" end and the unit can either be moved to the next location where work is required or, indeed, wheeled back into its storage zone.
Rolling stair units are used with shelves for a stock-picking environment, cantilevered units for overhead access where there is an obstruction beneath, or truck access, for those times when a loading dock facility isn't available.