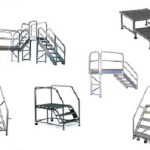 "PROVIDING WORK PLATFORMS FOR THOUSANDS OF APPLICATIONS" We offer a wide range of different types. If you are unable to locate the specific platform you need, then give us a call directly.  We specialize in providing Custom Solutions. We...

The Two Step Access Platform is extremely sturdy and can hold up to 500 lbs of weight. They allow very easy access to areas that are not that high.  These units can be constructed of aluminum or stainless steel as well. All Welded Steel Construction...
The Aluminum Work Platform is used in harsh weather environments and is very lightweight and easy to transport. These platforms are also available in steel and can be customized to fit your application. They are mobile and has a very strong structural...

FEATURES Steel Construction Grip Strut Material Platform has a 500 lb capacity Platforms are 36″ wide with a 500 lb capacity The steps are 36″ wide by 9 1/2″ deep Hundreds of different configurations These platforms can be built around...

This Dual Access Mobile Platform can come in three different sizes.  It is constructed with serrated material, which is one of the roughest treads available for this type of product. You can access the platform on both sides.  The EZY locking system...

Our Adjustable Work Platform can be used in alot of different applications.  But this model's primary use is to access mobile trailers or something similar. These platforms have 9″ of adjustablity in 1/4″ increments.  Aluminum Construction...

This Mobile Work Platform is construction of Steel, but it can be fabricated in aluminum or stainless steel as well.  There are optional tread types that you choose from. If none of the dimensions below fit you specific application, we can also customize...

Double Entry Work Platforms are typically used for gaining access to areas that require a unit to go up against a machine or something similar.  These platforms have been the solution to many different kinds of applications. This unit locks into place...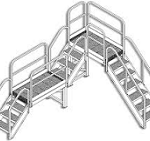 These Modular Work Platforms can be used in hundreds of different applications and offers the best access solutions.  Simply because of the variety of components that can be configured. Available in Aluminum or Painted Steel Construction Stairs and Platforms...

The Maintenance Mobile Platform is made of heavy duty steel construction and can also be substituted for Aluminum or Stainless Steel. This platform can also be custom designed to fit specific applications.  Just contact us directly and speak to one of...