When business procures access platforms, then its specialists should be prepared on the best way to utilize them. Moreover, there must be the right hardware and rigging that will guarantee the best possible lifting of apparatus and that they should be...
It is possible to buy the wrong product with the slight differences in design and function even if they are identical. You can avoid buying two or three ladder stand off due to non purposeful and inferior quality reasons with our ladder stand off reviews....
Aluminum ladders are one of the most popular choices for both residential and work for many reasons. Here are the reasons for why people may choose them. Aluminum is one of Earth's most available elements and can be recycled easily. It is fire resistant,...
The Man lift, scissor lift and rolling ladders are just a few of the access and materials handling solutions available from the premier U.S Industrial Supply Company in the United States. Offering a complete collection of this type of equipment, offers...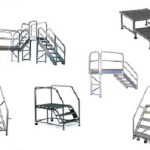 "PROVIDING WORK PLATFORMS FOR THOUSANDS OF APPLICATIONS" We offer a wide range of different types. If you are unable to locate the specific platform you need, then give us a call directly.  We specialize in providing Custom Solutions. We...

The Two Step Access Platform is extremely sturdy and can hold up to 500 lbs of weight. They allow very easy access to areas that are not that high.  These units can be constructed of aluminum or stainless steel as well. All Welded Steel Construction...

This Dual Access Mobile Platform can come in three different sizes.  It is constructed with serrated material, which is one of the roughest treads available for this type of product. You can access the platform on both sides.  The EZY locking system...