Industrial Rolling ladders are ingenious in the simplicity of their designs and the method in which they are deployed in saving time and storage space in an industrial environment. These Ladders are used in many industrial situations, one in particular...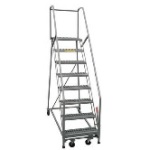 The Safety Rolling Ladder is used in hundreds of applications.  It can be constructed of Steel, Aluminum, or Stainless Steel.  There are different heights and dimensions offered. Ideal for Any Access Solution. Various Platform Heights Steel Construction...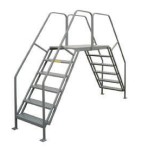 The most important factor for the Crossover Ladder is the clearance height and the clearance width. It can be used to cross over conveyor systems and pipes or any other type of obstruction.  It can also be used on roof surfaces. Different Types of Finishes...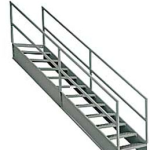 Our Industrial Stairways come in many different heights.  They are fabricated per order, based on your requirements, determined by the Run and Rise of the fixture. They made of Heavy Duty Steel Construction. Constructed of a 36 Degree Slope Grip Strut...