Ladders have been a fundamental apparatus in the ascent of human advancement. They have been utilized as a part of development, fighting, horticulture, and investigation. While it is a modest straightforward device, it has molded our way of life in huge...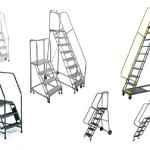 ~ HERE ARE SOME FEATURED MOBILE LADDERS ~ You can choose from many different heights and widths. Some options that are available are: Safety Chain to replace guard rails Swing gate to replace guard rails Cal OSHA Package Deeper Top Steps Foot actuated...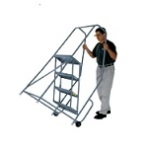 The Tilt and Roll Ladder makes for easy mobility and are lightweight.  These units meet all OSHA and ANSI standards, that apply. They have a standard gray powder coated finish. Steel Construction Rolls on 4″ casters Treads are 16″W  or 24″W...