Industrial maintenance platforms are used mainly to afford access to elevated areas where work, repairs, and/or maintenance is required to be carried out. Most notably, you'll see them being used frequently in aircraft maintenance locations, in order...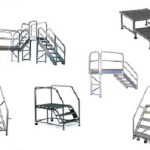 "PROVIDING WORK PLATFORMS FOR THOUSANDS OF APPLICATIONS" We offer a wide range of different types. If you are unable to locate the specific platform you need, then give us a call directly.  We specialize in providing Custom Solutions. We...

Our Adjustable Work Platform can be used in alot of different applications.  But this model's primary use is to access mobile trailers or something similar. These platforms have 9″ of adjustablity in 1/4″ increments.  Aluminum Construction...

This Mobile Work Platform is construction of Steel, but it can be fabricated in aluminum or stainless steel as well.  There are optional tread types that you choose from. If none of the dimensions below fit you specific application, we can also customize...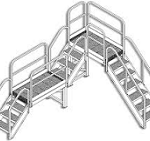 These Modular Work Platforms can be used in hundreds of different applications and offers the best access solutions.  Simply because of the variety of components that can be configured. Available in Aluminum or Painted Steel Construction Stairs and Platforms...

The Maintenance Mobile Platform is made of heavy duty steel construction and can also be substituted for Aluminum or Stainless Steel. This platform can also be custom designed to fit specific applications.  Just contact us directly and speak to one of...