Take a look on any construction site, shopping mall, or street in small-town or big-city USA and one will see aerial lifts (or man lifts) being used — yet most people walk on by without noticing them because nowadays, they are such a common feature...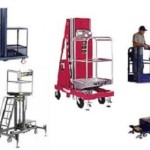 These Portable Man Lifts are heavy duty and easy to maneuver. We have the perfect man lift for your application.  The most important factor in considering one of these units is its safety features. Another factor to consider is the ease of accessibility....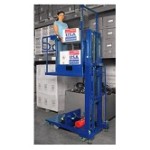 This Power Stocker Lift is manufactured by Ballymore.  The unit can be easily accessed from the ground. It is an Hydraulic Order Picker that does not require any outriggers. No one unauthorized can operate the lift due to a special key lock required....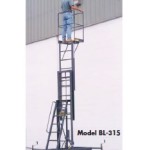 The Ballylifts are manufactured by the Ballymore Company. This unit comes with a Hydraulic Hand Pump that is used for easy lifting. The standard finish is a Gray Industrial Enamel Paint. Rated Capacity of 300 pounds Platform is enclosed w/ 42in guardrails...