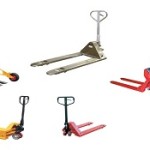 CLICK ON ANY ONE OF THE IMAGES BELOW TO VIEW THE SPECIFICATIOS AND DESCRIPTIONS OF OUR PALLET TRUCKS. We have other types and models of pallet trucks available also.  Call us directly (888) 722-0311 for more information.              ...

The All Terrain Pallet Truck is lightweight and very durable at the same tie.  Its frame is tubular in design.  This pallet truck handles evenly distributed loads. This unit is ideal for construction sites, and similar environments. Has Large 16″...

The Roll Pallet Truck is Economical and easy to use. It can transport rolls of material similar to other standard pallet trucks. The sloped ends of the forks allow for easily and manually roll material into position. The V shaped center of the palle...

This Standard Pallet Truck is manufactured by Vestil.  It is the most commonly used pallet truck in the industry. Its ergonimic design requires only 75 pounds of force when fully loaded.  One person can move heavy loads without using a fork truck. Two...