Aluminum ladders are one of the most popular choices for both residential and work for many reasons. Here are the reasons for why people may choose them. Aluminum is one of Earth's most available elements and can be recycled easily. It is fire resistant,...
Unfortunately, there are aluminum ladders which are safe to use, lightweight and exceed the current safety legislation as per OSHA 1910.29 & ANSI 14.7 standards and there are other aluminum ladder platforms available on the market which although appearing...
Most industrial access issues are the bane of maintenance crews and repair professionals everywhere; simple access to a roof on a suburban home to complex access issues in light or heavy industrial environments. Whoever invented Aluminum Rolling Ladders has...
Industrial Rolling ladders are ingenious in the simplicity of their designs and the method in which they are deployed in saving time and storage space in an industrial environment. These Ladders are used in many industrial situations, one in particular...
Industrial ladders are popular for performing jobs at different heights. Let us look at some safety tips that should be followed and convenient place to get these ladders. Industrial ladders and work platforms are getting more popular these days in industries...
For industrial stairways and lifts, get modular ROLLING LADDER.   We build work platforms along with aluminum stairs and work platform components to offer our customers using the best alternative scenario for reaching elevated levels. Work platforms...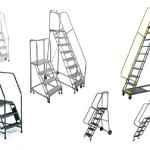 ~ HERE ARE SOME FEATURED MOBILE LADDERS ~ You can choose from many different heights and widths. Some options that are available are: Safety Chain to replace guard rails Swing gate to replace guard rails Cal OSHA Package Deeper Top Steps Foot actuated...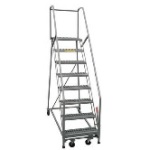 The Safety Rolling Ladder is used in hundreds of applications.  It can be constructed of Steel, Aluminum, or Stainless Steel.  There are different heights and dimensions offered. Ideal for Any Access Solution. Various Platform Heights Steel Construction...

These All Directional Rolling Ladders are easy to maneuver and are ideal for restricted work areas. They are available in grip strut and perforated treads. Steel Construction (Stainless Steel Available) Rolls Side Ways and in All Directions 14"...