Conventional folding ladders are cumbersome and overwhelming however in the event that you have a range of your home that is high up, a ladder is a need on the off chance that you need to have the capacity to utilize that space for embellishing and showing...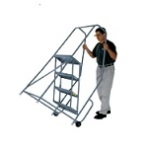 The Tilt and Roll Ladder makes for easy mobility and are lightweight.  These units meet all OSHA and ANSI standards, that apply. They have a standard gray powder coated finish. Steel Construction Rolls on 4″ casters Treads are 16″W  or 24″W...

These All Directional Rolling Ladders are easy to maneuver and are ideal for restricted work areas. They are available in grip strut and perforated treads. Steel Construction (Stainless Steel Available) Rolls Side Ways and in All Directions 14"...