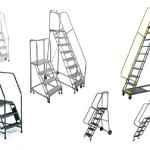 ~ HERE ARE SOME FEATURED MOBILE LADDERS ~ You can choose from many different heights and widths. Some options that are available are: Safety Chain to replace guard rails Swing gate to replace guard rails Cal OSHA Package Deeper Top Steps Foot actuated...

The Cantilever Rolling Ladder is ideal for hard to reach areas.  There are many options to choose for this ladder.You can have the rear guard rail removed and replace with a safety chain or swing gate.  You can also have the handrails removable.  The...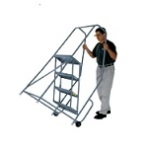 The Tilt and Roll Ladder makes for easy mobility and are lightweight.  These units meet all OSHA and ANSI standards, that apply. They have a standard gray powder coated finish. Steel Construction Rolls on 4″ casters Treads are 16″W  or 24″W...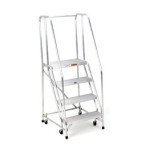 The Aluminum Rolling Ladder is lightweight and easy to maneuver.  If none of the dimensions below fit your application, contact us directly for a consultation. It has a weight capacity of 300 lbs and meets all OSHA standards. 1" OD Aluminum Alloy Tubing...

The Stock Picking Shelf Ladder is available in six different heights.  It is fabricated from 1″ O.D. tubular steel. All Welded Steel Construction Shelves are 24″ x 24″ Top step is 24″ W  x  20″ D 10″ Folding Platform Work Shelf 500...

The Fold and Store Ladder has a wheel barrow style design.  They are easily folded and stored in small areas because of its compact design. The ladder tilts back on ten inch casters and has rubber tips on the front legs for stability. All Welded Steel...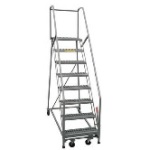 The Safety Rolling Ladder is used in hundreds of applications.  It can be constructed of Steel, Aluminum, or Stainless Steel.  There are different heights and dimensions offered. Ideal for Any Access Solution. Various Platform Heights Steel Construction...

These All Directional Rolling Ladders are easy to maneuver and are ideal for restricted work areas. They are available in grip strut and perforated treads. Steel Construction (Stainless Steel Available) Rolls Side Ways and in All Directions 14"...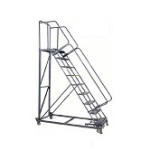 The Monster Rolling Ladder is manufactured with stronger and thicker material than the standard rolling ladder.  They are ideal for heavy duty use and has a weight capacity of 600 lbs. 2"  x  1" Steel Tubing Standard Gray Powder Coated Finish...

This Industrial Rolling Ladder is constructed of Square Steel Tubing.  It has an EZY locking device which allows the ladder to be planted firmly in place. There are different tread types for you to choose from.  The below specifications and dimensions...

FIXED LADDER WITH WALK THRU HANDRAILS These Fixed Roof Ladders are for any type of application that requires a Vertical Ladder.  They can be manufactured with a cage or without a cage. Cage begins 7  feet from the bottom of ladder Handrails extend 42"...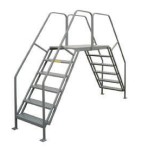 The most important factor for the Crossover Ladder is the clearance height and the clearance width. It can be used to cross over conveyor systems and pipes or any other type of obstruction.  It can also be used on roof surfaces. Different Types of Finishes...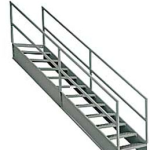 Our Industrial Stairways come in many different heights.  They are fabricated per order, based on your requirements, determined by the Run and Rise of the fixture. They made of Heavy Duty Steel Construction. Constructed of a 36 Degree Slope Grip Strut...

The Mechanics Ladders is the perfect solution for an easy to use portable ladder.  It can be used in a variety of industrial applications. There are rubber tips on front legs to assist with stability.  There is a standard safety chain at the rear of...