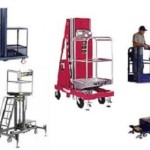 These Portable Man Lifts are heavy duty and easy to maneuver. We have the perfect man lift for your application.  The most important factor in considering one of these units is its safety features. Another factor to consider is the ease of accessibility....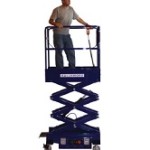 The Mini Scissor Lift is manufactured by Ballymore and has a weight capacity of 500 pounds.  This Man Lift is constructed of steel and is easy to roll around. The platform dimensions on both models are 24in wide  x  46in long.  They both meet all...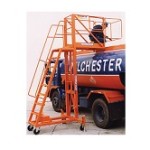 The Tank Top Man lift provides ease access to tank trucks, railroad cars or can be used for other cantilevered applications. This Man Lift is ideal for clearing snow off the tops of trailers.  It also has an option where where the heights can be adjustable....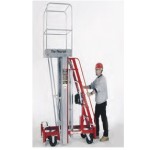 This Elevating Work Platform is manufactured by Cotterman and is also called 'The Maxi Lift'.  It can be easily rolled through a door and is operated by one man and can be accessed from the ground level. This unit has three different models...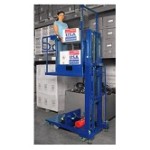 This Power Stocker Lift is manufactured by Ballymore.  The unit can be easily accessed from the ground. It is an Hydraulic Order Picker that does not require any outriggers. No one unauthorized can operate the lift due to a special key lock required....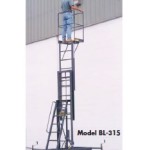 The Ballylifts are manufactured by the Ballymore Company. This unit comes with a Hydraulic Hand Pump that is used for easy lifting. The standard finish is a Gray Industrial Enamel Paint. Rated Capacity of 300 pounds Platform is enclosed w/ 42in guardrails...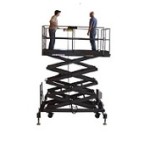 These Scissor Lifts are constructed of Steel and are Heavy Duty.  They are Manually Propelled and can hold up to 1000 pounds. The platform is enclosed with 42 inch guardrails and 21 inch mid rails with 4 inch toe boards and a swing gate that swings inward....