Widely popular and highly trusted Industrial Ladders and Work Platform provider – U.S. Industrial Supply, Inc. offers top-notch quality, expertly designed Rolling Ladders and Work Platforms that provide easy access solutions. "We understand the...
When business procures access platforms, then its specialists should be prepared on the best way to utilize them. Moreover, there must be the right hardware and rigging that will guarantee the best possible lifting of apparatus and that they should be...
Numerous individuals nowadays have a tendency to do their own upkeep work, or organizations have their own groups which go round and keep the industrial facility or working all together. In any case, in the event that they need to do any sort of high...

The Two Step Access Platform is extremely sturdy and can hold up to 500 lbs of weight. They allow very easy access to areas that are not that high.  These units can be constructed of aluminum or stainless steel as well. All Welded Steel Construction...

This Mobile Work Platform is construction of Steel, but it can be fabricated in aluminum or stainless steel as well.  There are optional tread types that you choose from. If none of the dimensions below fit you specific application, we can also customize...

Double Entry Work Platforms are typically used for gaining access to areas that require a unit to go up against a machine or something similar.  These platforms have been the solution to many different kinds of applications. This unit locks into place...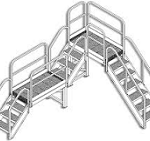 These Modular Work Platforms can be used in hundreds of different applications and offers the best access solutions.  Simply because of the variety of components that can be configured. Available in Aluminum or Painted Steel Construction Stairs and Platforms...