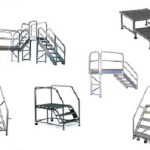 "PROVIDING WORK PLATFORMS FOR THOUSANDS OF APPLICATIONS" We offer a wide range of different types. If you are unable to locate the specific platform you need, then give us a call directly.  We specialize in providing Custom Solutions. We...

The Two Step Access Platform is extremely sturdy and can hold up to 500 lbs of weight. They allow very easy access to areas that are not that high.  These units can be constructed of aluminum or stainless steel as well. All Welded Steel Construction...
The Aluminum Work Platform is used in harsh weather environments and is very lightweight and easy to transport. These platforms are also available in steel and can be customized to fit your application. They are mobile and has a very strong structural...