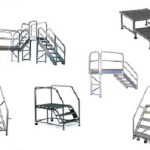 "PROVIDING WORK PLATFORMS FOR THOUSANDS OF APPLICATIONS" We offer a wide range of different types. If you are unable to locate the specific platform you need, then give us a call directly.  We specialize in providing Custom Solutions. We...
The Aluminum Work Platform is used in harsh weather environments and is very lightweight and easy to transport. These platforms are also available in steel and can be customized to fit your application. They are mobile and has a very strong structural...

This Dual Access Mobile Platform can come in three different sizes.  It is constructed with serrated material, which is one of the roughest treads available for this type of product. You can access the platform on both sides.  The EZY locking system...